Yokohama AVID ENVigor (H- or V-Speed Rated) 205/65-15 Tire (Set of 4)
$ (as of September 1, 2016, 5:42 am)365.56 (as of September 1, 2016, 5:42 am)
Product Description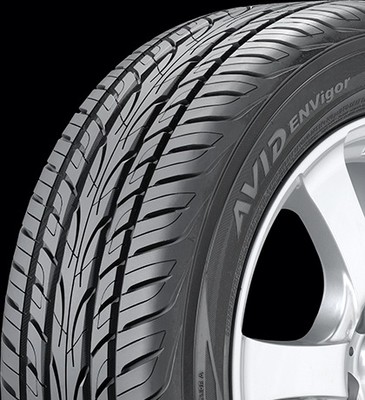 Yokohama AVID ENVigor (H- or V-Speed Rated) 205/65-15 Tire (Set of 4)
High Performance All-Season Set of 4
Part Description :
Most Approximate Photo Shown
NOTE: Tread patterns must often be tuned to accommodate different tire widths. While tires shipped will match your order's specifications, photos used only represent typical sizes. Sidewall design and lettering style may differ from the photo shown. Please refer to the item specifics above for details.
The Yokohama AVID ENVigor tire line includes H- and V-speed rated High Performance All-Season radials developed to meet the year-round driving needs of sports car, coupe, sedan and crossover drivers. AVID ENVigor tires are designed to combine performance, comfort and treadlife along with year-round traction, even on light snow-covered roads.
The AVID ENVigor radial's all-season silica tread compound is molded into an optimized contact patch featuring a five-rib directional pattern that blends performance with all-season traction. Linked shoulder blocks and a continuous tapered center rib increase tread rigidity to improve straight-line tracking and handling.Independent intermediate blocks, angled grooves and adaptive 3D sipes enhance wet traction, help resist hydroplaning and promote traction in light snow.
The AVID ENVigor radial's internal structure features twin steel belts reinforced by a jointless nylon belt cover that is spirally wound to provide long-term integrity under high-speed conditions while it reduces tire weight and promotes more uniform ride quality. A polyester body helps provide smooth ride quality.
Tire Rack, family-owned and headquartered in South Bend, Indiana, is one of the largest independent tire testers and consumer-direct sources for tires, wheels and performance accessories. Our team of 90-plus test drivers (our sales team) tests tires from every major tire manufacturer on our state-of-the-art, 10-acre test facility. The findings are then given to our community where you can make an educated decision on a tire, wheel or performance accessory purchase.
Since 1979, we have grown from a single-point retail store in Indianapolis to encompass over 1.8 million square feet of space in six distribution centers across the country. A diverse and broad in-stock inventory from 18 major tire and 49 wheel brands can be delivered anywhere in the country in two days or less.
Additional Information
| | |
| --- | --- |
| brand | Yokohama |
| manufacturer part number | 32116 |
| speed index | H |
| load index | 94 |
| performance category | High Performance All-Season |
| section width | 205 |
| aspect ratio | 65 |
| rim diameter | 15 |
| sidewall style | Blackwall |
| upc | Does not apply |